Click here to see more treatments
---
WHERE ARE YOU BEING HELD BACK IN LIFE?
Are you fed-up with being a smoker? Feel a social outcast whilst burning away thousands of ££££ of hard-earned money? Tired of diets which just make the Pounds yo-yo and want to find a solution which stops you overeating whilst dealing with your comfort eating or boredom?

Do you lack confidence at work or in social situations? Do you feel you're not quite good enough...?

Do you have to give presentations or lead groups and sometimes wish the ground would open to swallow you up?

Are stress, anxiety or worry affecting your health, your job, your relationships or are you unable to relax without drinking alcohol? Do you find making decisions really stressful?

Are you terrified of spiders, mice, crawling insects or the sight of blood? How about heights or lifts? Is the fear of flying stopping you from visiting friends or family in other countries or going after a dream job? Have you had enough of being held back in life by a fear? Is the fear of failure preventing you from starting a business? Or perhaps the fear of success? Maybe you are not even aware of it.

Do you suffer needlessly from stress-related illnesses such as IBS (Irritable Bowel Syndrome), psoriasis or do you need to relax whilst undergoing chemotherapy?

Does your child feel timid, still wet the bed or suck a thumb, worry about exams or is being bullied?
THEN MAYBE I CAN HELP.
I combine powerful HYPNOSIS with amazing NLP and PERSONAL DEVELOPMENT to sort out your problem quickly and effectively.
Comparison of Hypnotherapy Success Rates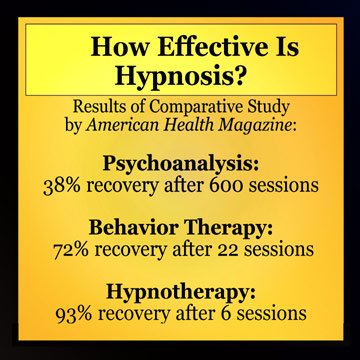 Source: Psychotherapy – Theory Research and Practice Volume 7, Number 1
FIND OUT THE TRUTH ABOUT HYPNOSIS
Hypnosis is probably not what you think. You can find out the facts about what people mistakenly believe hypnosis is compared to the truth in my ebook "21 MYTHS & 30 TRUTHS ABOUT HYPNOSIS" available free when you subscribe to my newsletter. Just look for the box on each page of this website. Fill in your name and email address and the ebook will be yours along with interesting information I will send you in your email inbox.

For now, let me just say that hypnosis is all about relaxing the mind and body so that we can change what your mind currently thinks to something more helpful. Hypnosis is the most powerful tool on the planet for working with your mind to achieve the results you want. Just look at some of the testimonials on this site to read how I have helped people with a wide variety of problems.

What does all this mean to you? Simply that I have the knowledge and experience to solve your problems and lead you to the freedom you so badly need.

Book a 15 minute no-obligation conversation by filling in the form at the bottom right of the page.
---
Call Today!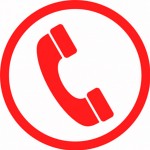 The most successful people across all walks of life have 2 things in common: -

1. They enlist the help of others

2. They implement good ideas immediately. This is known as the 'speed of implementation', and all successful people have this in common.

You have nothing to lose and everything to gain, and not only that, you can probably get the treatment you need paid for by your tax £££'s.