Rightly or wrongly, people form a perception about how competent you are by how you present yourself when you stand and speak.  What you say is often not as important as how you say it – both your voice and non-verbal communication through body language.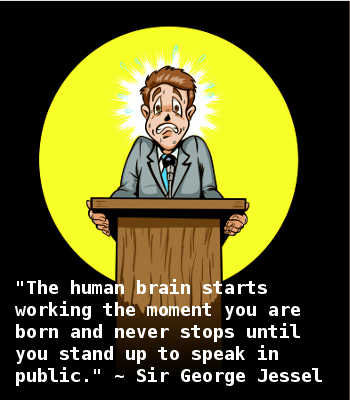 For some people, training in presentation and public speaking skills will enhance an ability they already have.
However, for many people, public speaking is not just about what and how they speak.  Speaking to a group came higher on the list of fears in a survey than death or spiders.  Some people have an anxiety about speaking which is very real and very debilitating. A little trepidation, some adrenaline pumping gives a good edge to your performance but for some this means a pounding heart, sweaty palms, sweaty forehead, a trembling voice and generally an impression of nerves.  Some even vomit or pass out from the anxiety.  The problem is that rather than sympathise with the speaker, we unconsciously read this as incompetent, lacking in knowledge or just downright not telling the truth.  It can pose a major detriment to career advancement or to promoting your business.
I used to blush whenever I spoke in a meeting or a group discussion.  If called upon to say anything, I flustered and swallowed my answer.  I would rather die than talk in front of a group.  Then I decided that I wanted to learn to become a speaker, to share ideas competently and to teach and motivate others.  I needed to overcome my fear of public speaking, to relax and appear confident in front of a group.  I have progressed from a shy, blushing, timid girl to a woman who loves to talk in front of a group.
"I just want to let you know that the presentation to the Government Minister went really well and I actually enjoyed it." - G.P., a man who six months earlier nearly fainted at the thought of chairing a group and avoided any need to give a presentation.  This was a huge challenge for him and I am so proud of his achievement.
Maybe you do not need to give business presentations or speak in front of an audience but you have to give a Best Man's or Father of the Bride speech.  Or you have been asked to be Secretary of the Golf Club or a similar role in a social function.  You do not want to be embarrassed but have no idea where to start.
Ralph Waldo Emerson, the great American Poet, Lecturer and Writer said,
"Speech is power: speech is to persuade, to convert, to compel."
 You may want to improve your communication skills to present your business when seeking finance or making sales.  Or perhaps to convey your message and ideas.
I want to help you.  I can help you overcome your anxiety about speaking and, if you wish, go further and train you in public speaking skills which I have learned.  I am a regular member of Toastmasters International which has over 250,000 members worldwide and is an excellent place to learn and practice skills as well as receive constructive feedback.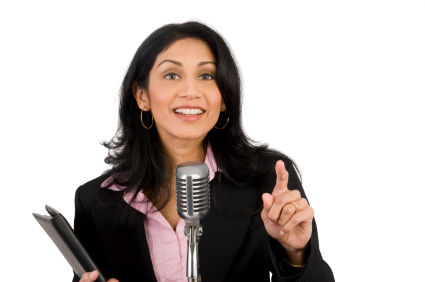 I train individuals one-to-one and also groups usually in companies.  I particularly offer group training for women only as we speak differently.  Our persona on a stage or as a trainer is different to that of a man.
For my clients, I work on the emotional end of things-overcoming fear and anxiety. Drawing on professional training in Neuro-Linguistic Programming (NLP) and hypnotherapy, and my own experiences as a speaker and trainer, I use a combination of coaching, relaxation training, mental rehearsal and guided imagery to help you replace your fears with confidence and motivation.
Contact me today and your anxiety about public speaking will become a distant memory.  I can help transform you into a confident and skilled speaker or presenter.
Pay Securely Via PayPal
Session/coaching fees may be tax deductible. Ask for details.